The Britpart British Cross Country Championship (BXCC) crews will head to mid-Wales next weekend for the second event of the season which will be held at the popular Sweet Lamb venue.
Richard and Mason Kershaw will be first on the road after taking a win in the opening round at Parkwood in Yorkshire last month. The Kershaw's Lofthouse will be followed by Paul Rowlands in his Polaris and Adrian Marfell in his Fouquet-Nissan.
Insanity Racing's Jon Damrel has repaired his Tornado after having ball joint issues at the previous round but he's feeling a little apprehensive about next weekend.
"After a very nervous re-introduction to motorsport at Parkwood we managed to complete every lap," said Damrel. "The new engine seems to be behaving itself and the car held up reasonably well. The rear axle ball joint exploded on what turned out to be one of our fastest laps of the event and then I found a crack on a suspension bracket when I got the car home. We've fitted various new ball joints, bushes and new track rod ends in preparation for Sweet Lamb. I'll not deny that I am nervous about the venue, it's potentially going to be a very fast course and that's something my car hasn't been very good at in the past. I'll have a new temporary navigator for the weekend as my usual one Nic is unavailable due to an inconsiderate friend arranging their wedding on the same date as a BXCC round!"
Martin James is another driver who will have a different navigator at Sweet Lamb.
"My partner Chas will be back co-driving after missing the previous event, Sweet Lamb is rather nearer our home than Yorkshire so the logistics have worked out this time. We were a little disappointed with the result last time out but we're really looking forward to next weekend as it's one of our favourite sites, having raced there for many years. It looks like it will be a great event."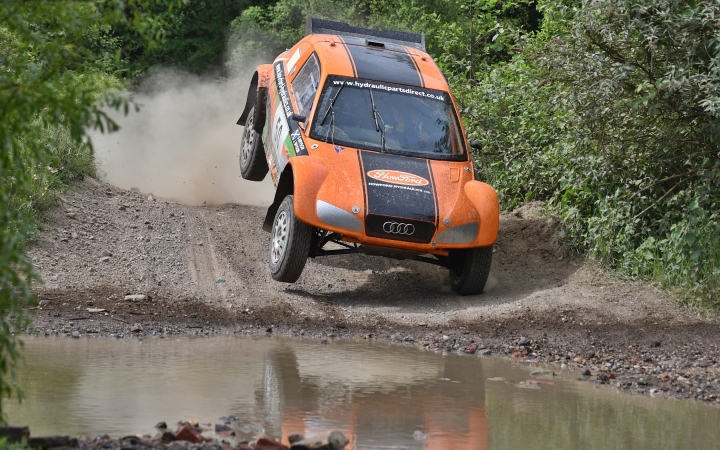 George and Jacqueline Bryson will make the long journey from Scotland to Wales with their Warrior Audoo Quattro. The Brysons filled the gap between the two BXCC rounds by successfully finishing the Argyll rally in their Escort Mk1.
"We've done a lot of work on the racer to get to the bottom of the fuel issue we had at Parkwood and we're nearly there. A new fuel pump, regulator and filter have been fitted so hopefully we won't have a repeat of the problem. It's another new venue for us and one I've wanted to race at for a long time."
Mike Wilson will travel from Cumbria with his Polaris and he'll have Ian Letman navigating.
"Our plan for Sweet Lamb is to be going quicker from the off, hopefully with a working intercom this time! The venue suits my driving style with the open ground and it being not as tight as the previous event."
In Wilson's old Freelander will be Reece and Sean Mathieson who enjoyed a successful first ever event together at Parkwood.
"We've made a few adjustments to the car and hopefully we've rectified the issue we had with a sheared bolt last time out which resulted in us 'sitting down' in stage when a wheel came off", said Reece. "After discussions with our mechanic Tony Devenport we had all four struts machined to allow for strengthened camber adjustment whilst still being able to use high-tensile bolts, which we believe were the cause of our Parkwood problem. Whilst removing the struts we were greeted by a sheared spring which had snapped in two places so that's been replaced as well. We're very much excited for Sweet Lamb which was where I really caught the rallying bug when I co-drove for Mike Wilson in 2019. It's an awesome venue with plenty of quick and technical sections. We'll both be driving and we're looking forward to it!"
In addition to the championship competitors there are five "weekender" entries which means that the entry list is full for the first time in many years.
Amongst the extra entries is Toby Jefferson who celebrated his 50th birthday the last time the BXCC visited Sweet Lamb.
"I'm very happy to get a weekender entry, I'm two years older than the last Sweet Lamb event but I'm not any wiser. Phil Ibbotson will be sitting with me as his own car isn't ready and Karl Gudgeon will have a lap or two. I raced at the NORC event at Pickering a few weeks ago and broke the steering but that's sorted now. After being a marshal at Parkwood I hope we can entertain the marshals and organisers at Sweet Lamb without having to trouble the recovery crews! Let's hope for good weather, lots of miles of racing and a nice hog roast!"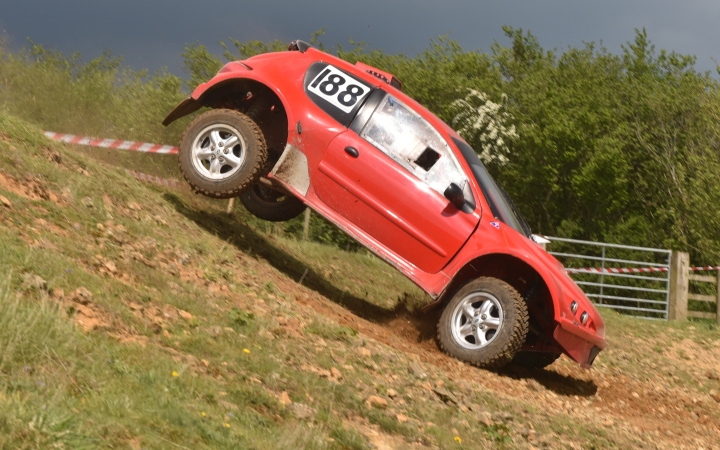 Several BXCC crews entertained thousands of spectators at the Goodwood Festival of Speed last weekend, including Phill Bayliss who got a very last minute invitation to attend just as his car was in many pieces in his Lincolnshire workshop. A huge effort by Team OFG got the car put back together in time for the drive to Sussex. Joining Phill at Sweet Lamb will be dad Chris who is another of the weekender entries. Chris will be using the Land Rover that Phill used to race in the BXCC.
The event will start at lunchtime on Saturday with 12 runs of the course planned over two days of competition. Unfortunately, due to Covid restrictions, spectators are not permitted.
In addition to championship sponsor Britpart the BXCC is supported by Voxcloud, Staffordshire Signs, Whitecliff 4×4, ORTyresUK, Birchall Foodservice, NickyGrist.com, PD Extinguishers, Devon Town and Country Roofing and Gwalia Healthcare.
For more information on the Britpart BXCC please visit crosscountryuk.org.
Please follow and like us: