Multiple former champion Richard Kershaw came back to the Britpart British Cross Country Championship (BXCC) in style with victory in the opening round of the 2021 series, held at Parkwood in Tong. Paul Rowlands was second in his Polaris with Adrian Marfell in third.
Dry and sunny conditions greeted the crews as they tackled the opening runs of the challenging course. Ian Gregg was quickest on the first run in his Polaris, leading Marfell's Fouquet by six seconds. Gregg extended his lead on the second run but Marfell battled back to be only three seconds off first place at the end of day one's five runs. In third place, a further two seconds back, was Kershaw in his Lofthouse Evo with son Mason co-driving.
A further six runs took place on day two. Times continued to be tight at the top of the leaderboard, Marfell closing the gap to Gregg to one second after the first run and then taking the lead on the next one. Victory hopes were dashed on run 10 though when Marfell broke a driveshaft, dropping around 45 seconds compared to his usual pace. On the same run Gregg had mechanical issues which resulted in a stage maximum, dropping him down the leaderboard. Kershaw kept up his day one pace to take the lead with one run to go and he had a trouble free last lap to take the win.
"It's been nine years since my last full British season, I can't believe it", said Kershaw. "What a weekend and to win with my son, it doesn't get any better. It's only the third event with the new Lofthouse car and there's more development to come but we've got a great base to work from."
Rowlands and co-driver Neil Lloyd finished second in their Polaris. They were also racing their new Lofthouse Freelander and took 8th place as well.
Rowlands commented: "Not a bad weekend, we broke a wheel on the first day but other than that we had good runs in both cars. It was my first event in the Lofthouse so I was driving at around 90%, there's a lot more to come from that car at the next event at Sweet Lamb."
Despite the broken shaft Marfell and Paul Bartleman held on to take third place.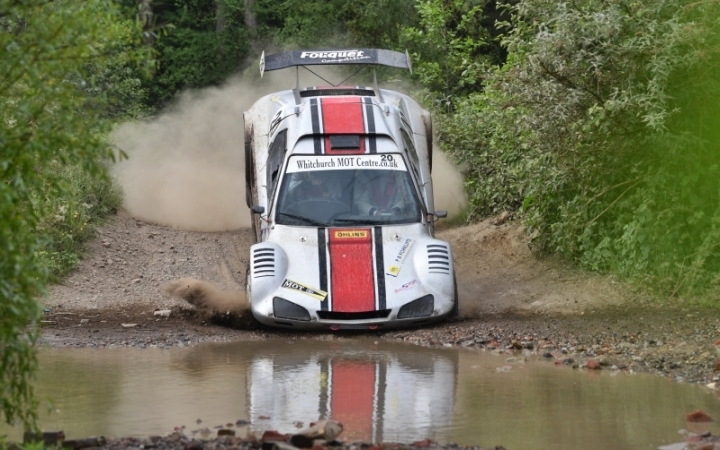 "I'm gutted not to get the win, we'd managed to get into the lead after the 7th run and the win was in sight but it wasn't to be. I'm pleased with our times, we set the fastest time of the whole weekend on one run. There's still more development left in the car so we will fight on."
2019 BXCC champion Justin Birchall and new co-driver Andy Powell were in fourth and Andy Degiulio and Paul Foley were fifth despite having to change a diff and suffering a broken driveshaft.
"We had a great first event," said Degiulio. "I was a bit rusty at first with not racing for a long time. Towards the end of day one we noticed a vibration and transmission noise on the car. It got so bad on the final run of the day that you could feel it resonating through the car and we were waiting for something to go bang but we got to the end. We worked until 11pm on Saturday fitting our spare diff to the rear. Then on day two we broke a rear driveshaft, we managed to get it fixed though and we were happy with fifth place."
Phill Bayliss and Lance Murfin were doing their first BXCC event in their Team OFG 3M AT Challenger and overcame several issues to finish sixth.
"What a weekend! Saturday started ok but then we got a puncture with damaged a ball joint on the second run. Queuing for the third run we lost all the electrics and had to roll back to the service area. We eventually found an issue with the emergency cut off switch. We finally started run three and I was in a rather stressed and annoyed mood, we were pushing hard but ended up going into a ditch. I kept the power on and we launched out of the ditch and off the road. Thankfully no damage was done but we were down in 14th place. Day two was a lot smoother and we set some competitive times to finish sixth overall and second in class. Thank you to everyone involved who set up and ran the event including all the marshals who sat out there in hot and dusty conditions."
Finishing just outside of the top ten and beating several much more experienced competitors, including her dad, was Jasmine Philpott in her Warrior with Peter Widdop co-driving.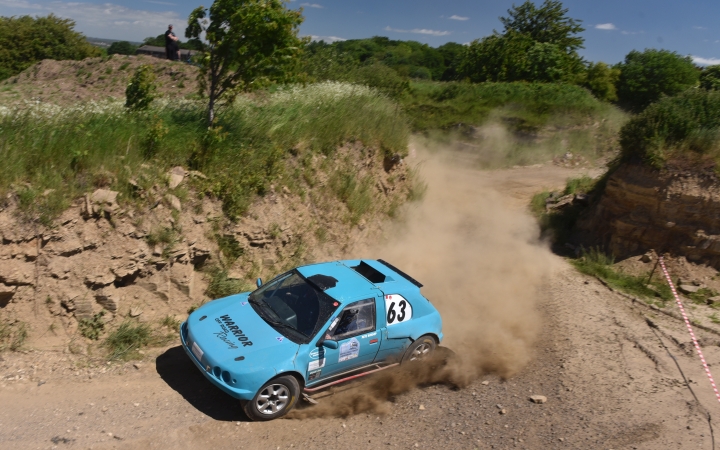 "This was my first stab at a BXCC event and I was really pleased with our result and proud to be just behind the fastest men," said Philpott. "Pete is preparing the car this year and he's done a great job and it's showing in my times. We also had some advice on suspension set up from Anthony Jackson who is a very quick Warrior driver. I ran the course twice on Saturday morning and tried to memorise it – I'll not be doing that at the longer Sweet Lamb course! The weekend was fairly uneventful mechanically, we had a leaky diff but it wasn't too bad and we narrowly escaped a puncture on day two when I got a bit over-zealous and threw the back end into a rock. The wheel was broken but somehow we didn't get a puncture."
Debuting his new Lofthouse was Rob Bool with Victoria Vaughan navigating, they finished 14th overall.
"It took a bit of getting used to," said Bool. "We had a few electrical issues on Saturday which lost us some time. Dan Lofthouse sorted them for us and also made some suspension adjustments at the end of the first day which improved the car a lot for the second day."
One place behind Bool, and also debuting a new car, were Trophy crew Tom and Alice Jones in their Can-Am Maverick.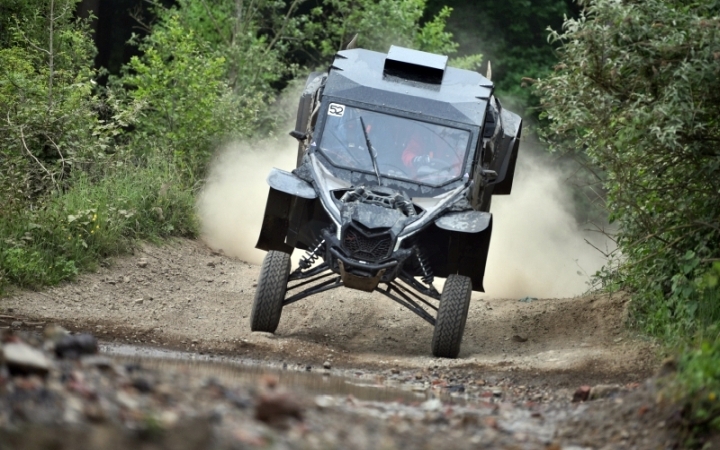 "Our aim for the weekend was to get a finish, we started Saturday well and were setting consistent times, not going too wild in the rough areas. By Sunday morning we were close on times with Matthew Hall who is also doing the Trophy championship in a similar car. Despite a puncture the times were very close and going into the last run we needed to do a 6:17 lap to secure the Trophy win. We pushed harder on the rougher areas and managed a 6:05, our fastest run of the weekend. The competition was really good and it was a great start to the championship."
Mattserati crew Warren Roper and Alec Fern were joint third overall after the first run but a stage maximum on the fourth run ended hopes of a good result, they completed the event in 21st place.
"I'm new to the BXCC and I've never run on all-terrain tyres so I was very happy with our time on the first run," said Roper. "We stiffened the rear shocks for run two but we ended up with no grip, spinning near the start. We went back to the original settings and started to learn the car and build confidence. The Sunday runs went well and we were setting top five times. I thoroughly enjoyed the weekend, massive thanks to all involved."
The other crew in joint third place after run one were Dave and Antony Hooper in their supercharged Simmbugghini. Unfortunately they had a wiring issue which dropped them down to 40th place but they battled back, setting top six times and finishing 19th overall, top beam-axle car and first in class.
Martin James and Matt Lowe overcame several issues to finish in 32nd place in their Lofthouse.
"We had a couple of punctures early on day one which meant we had to limp to the finish losing at least a minute," commented James. "After sitting on the start line while a stoppage was cleared the car wouldn't start so we had to be towed back to the pits, thanks to John and Matt for helping strip and find that the plug for the fuel pump had given up. We got back out and completed the rest of our runs. The dramas weren't over though as after resetting the flat shift at the end of the day the car wouldn't start – the electronic kill switch had given up. Fortunately I had a spare. Day two was a lot smoother and it was nice to get to the finish. Our problems didn't end there though, a wheel bearing let go on our trailer ¼ mile from the venue. Michael Kerfoot kindly helped out and we did a two hour round trip to Chorley to get another trailer, finally leaving the site at 9pm and getting home at 2am!".
BXC Trophy crew Harry Nicoll and Emily Sibley, possibly the youngest crew in the championship this year with a combined age of 44, enjoyed their weekend in the Trophy class and finished 28th overall in their Tomcat.
Nicoll said: "We made a cautious start as the course was quite rough in places but we got quicker as the day progressed. Day 2 was going well but we bent a trackrod end on one run and were lucky not to snap it. We had a really great time pushing the car and we're very happy with our pace. We couldn't catch the UTV cars in the Trophy so it was nice just to have fun and learn more. It was a great course and event by all the team".
Also racing in the Trophy, and on their first ever offroad event, were Reece and Sean Mathieson. They had a good day one in their Freelander but on the opening run of the second day a strut bolt sheared and the driveshaft came out resulting in a maximum and their first experience of the BXCC recovery team.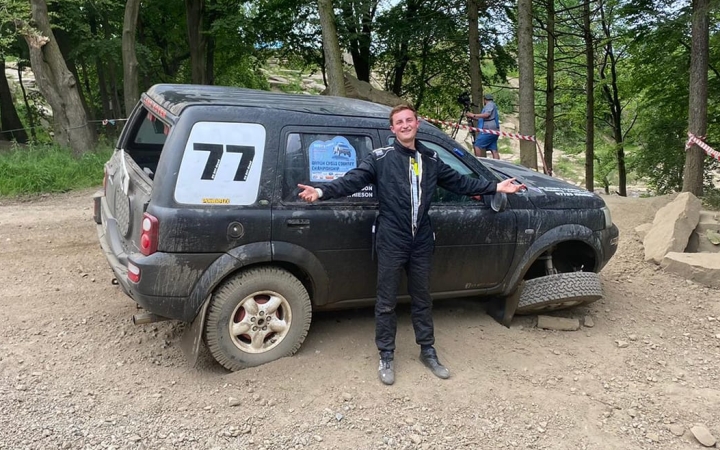 "What a great first event weekend, the car was brilliant and we've both bedded in well. We couldn't be happier with the result both in terms of our times and the car's performance. It all went pretty smoothly other than the strut issue but we were quickly recovered by the great recovery crews and our mechanic worked his magic! Massive thanks to Tony Devenport for his mechanical expertise and to Mike Wilson, the car's former owner, for all his advice over the weekend. Our confidence is growing, we can't wait for the next event."
George and Jaqueline Bryson raced their Warrior Audoo Quattro for the first time and they battled to 35th place after a stage maximum on day one.
"I don't think any of us had been so nervous about an event ever," said George. "New car, new venue and not having raced for so long. Run one was like learning to drive again! We lost the wipers at the watersplash one one run which wasn't ideal as there was bend over a drop right after it. At the same splash on the final run of day one the car stopped completely. We stripped half the car to get to the fuel pump only to discover that the problem was simply that the relay had fallen out! Day two started better, driver awake, car pulling great and the navigator on the button. The car then started losing power and the fuel pressure was dropping. I think the pump must have got damaged when it ran dry the day before. Anyway, we had some good runs and were pretty happy all things considered."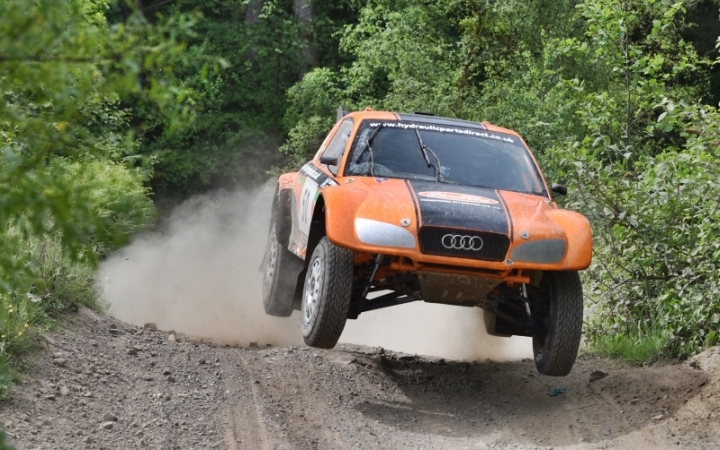 Mike Wilson and Ian Letman were another crew coming straight into the BXCC with no racing for 18 months. Their objectives were to learn the car, not to break it and to finish and they achieved all three with their only real issues being a broken intercom on day one and Letman getting a shower on every run through the watersplash.
Excite Team GB debuted their Mitsubishi Pajero and were rewarded with a class win despite driver Jade Paveley and co-drivers Claire Williams and Hannah Davison never having competed in a cross country event before.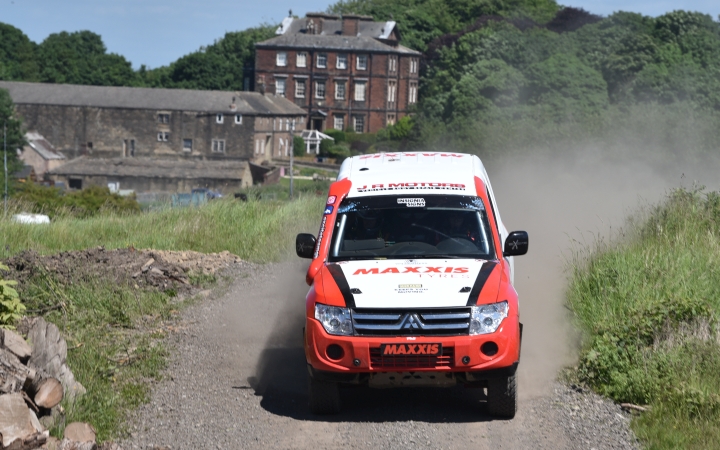 For full results from the event please visit http://results.wizzyideas.co.uk/events/bxcc/2021/R3-Parkwood.htm
The next BXCC round will be at Sweet Lamb in Wales in July. For more information on the championship please visit crosscountryuk.org.
In addition to championship sponsor Britpart the BXCC is supported by Voxcloud, Staffordshire Signs, Whitecliff 4×4, ORTyresUK, Birchall Foodservice, NickyGrist.com, PD Extinguishers, Devon Town and Country Roofing and Gwalia Healthcare.
Images by Songasport with the exception of car 77 which is courtesy of Reece Mathieson.
Please follow and like us: