Adrian Marfell and Paul Bartleman took their second win of the season at a very challenging Britpart British Cross Country Championship (BXCC) event in Kielder forest.
Marfell got off to a great start in his Fouquet Nissan, setting the fastest time on the first run and recording exactly the same time on runs two and three before achieving the quickest time of the weekend on run four.
Going into the event Marfell and Richard Kershaw had been tied at the top of the championship leaderboard but Kershaw's hopes of a good result were ended on the first day when a stone knocked off the alternator belt, causing the car to stop just short of the finish line.
A one minute penalty for Marfell dropped him to second on the overnight leaderboard with Mark Jacques and Simon Kerfoot leading. Justin Birchall and Andy Powell were in third.
Marfell continued his relentless pace on the second day and, with Jacques also incurring a one minute penalty, he won the event by over two minutes.
"It was a very enjoyable event at a beautiful venue," said Marfell. "The course was fast and flowing and it was very well organised. We had a trouble-free weekend and the competition was very tough, it feels like everyone is upping their game. We're all set for the final round now, we're in a good position for the championship but it's going to come down to who wins at Walters."
Jacques ended the event in second place in his Lofthouse LS3: "What a great event, the course was very demanding and put a lot of strain on car and crew but we're delighted with the result."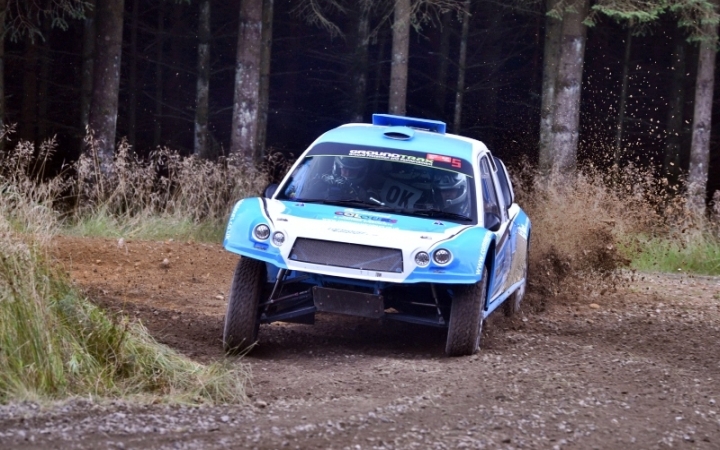 Birchall retired his Lofthouse after a fire early on day two so it was Dave and Antony Hooper who rounded off the podium positions in their Simmbugghini, their best ever BXCC result.
"I enjoyed it, the course was better than I expected after walking it on Friday," said Dave. "We managed to avoid getting any penalties and kept the car out of the ditches. The exhaust fell off on the penultimate run but other than that we had no problems."
Excite Team GB enjoyed another good event in their first BXCC season, the team making a 900+ mile round trip from Dorset to race. Team Principal John Hardy commented: "The Kielder stage suited our T2 Mitsubishi and it ran faultlessly and we had no punctures all weekend. Driver Jade Paveley is finding her feet with the car and she put in steady runs and didn't get any penalties for hitting the stage furniture. After fitting new brake calipers and rebuilding the steering rack after the last round the service crew didn't have much to do apart from a spanner and tyre pressure check after each lap. We tried different tyres through the weekend and the crew gained valuable experience and seat time."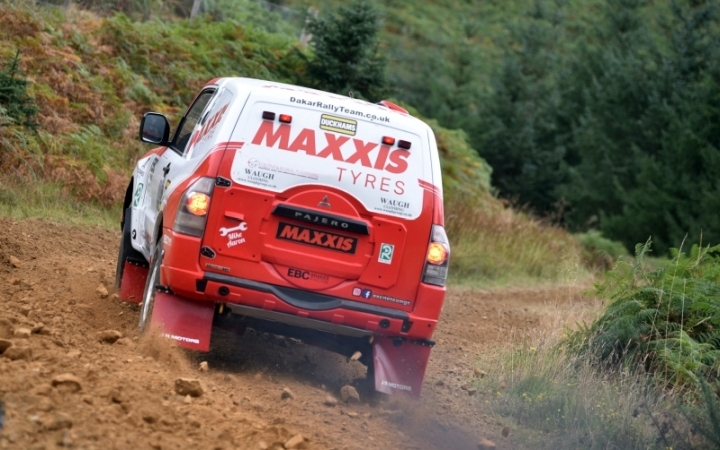 Nick Pritchard finished 8th overall and won his class in his DV8 Buggy after overcoming several issues.
"I didn't have the best of starts as the clutch started to slip so it was back to the pits to fit a new one before the first run. The day went well but then there was a nasty drive noise on the final run and we found the diff was trying to escape so we had to rebuild it and weld the mounts into place. On day two the car stopped briefly on one run and then I lost fourth gear. I've over the moon with the result, massive thanks to all that make the event run."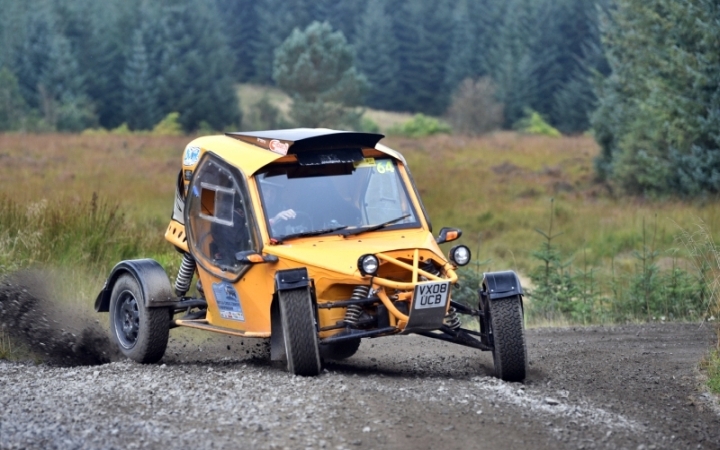 Mike Wilson and Ian Letman had a difficult event with transmission problems before the competition had even started.
"We had problems in the service area which made us late for the recce lap (sorry Neil), we had to do the recce in low-range just to get around. We changed the belt and set out on the first run and it went well – what a great stage. However, the clutch broke on the second run leaving us stranded. Such a shame as we were looking forward to this one. Never mind, we'll get it fixed and be back out at Walters."
Another crew having problems early on were Mike Faulkner and Peter Foy, who are doing their first year of off-road racing after many years of rallying.
Foy commented: "Our weekend didn't go to plan. We had a hectic pre-event preparation as we waited for gearbox parts from America but it all came to nothing when we retired after the first run. It looks like the heat and dust at Sweet Lamb created more issues than we appreciated and we stopped before damaging our magnificent Chevy engine. We knew this was going to be a learning and developing year and we enjoyed the early part of the weekend. It's back to the shed now to see if we can get the car ready for the final round but I think it'll be a tall order."
Rebecca Clarkson had been going well in her Warrior Rivet until a stone broke the alternator belt and main oil pipe.
"What an absolutely cracking event, I had Tim Henry in with me all weekend and I seriously upped my game and actually drove the Rivet this time rather than it driving me like at the previous rounds," said Clarkson. "Saturday was going well until the brakes decided to play games and work intermittently and I also had a ball joint go in the steering so we changed that and messed with the brakes ready for the Sunday runs. We were going well, dipping under 13 minutes for a lap for the first time but then we had the issues which forced us out."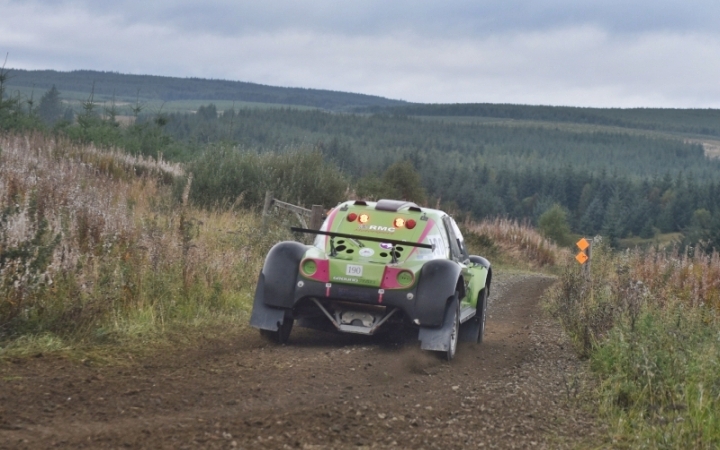 Martin James made the long trip from West Wales with his Lofthouse but he was rewarded with 13th place finish.
"Matt Lowe was back in the co-driver's seat, we had a great trouble free weekend and the car didn't miss a beat! It was the best venue I've ever raced at."
George and Jacqueline Bryson's event got off to a very dramatic start, breaking down on the recce lap and then having a wire loom fire before they'd even commenced the competitive runs but they battled through to take 9th place overall and third in class:
"We thought it was bad when the fuel pressure disappeared on the recce run and we had to get towed back into service. Then then loom set on fire as we worked on the car and we thought it was all over but no, our good friends from 4wdni, who were over helping us, set about the car. Seat out, tunnel out, fuel pump replaced, dash out and wiring replaced. We lost so much time that we had to do back to back runs at the end of the day but we got there and were blown away to be in 11th place overnight."
"Sunday was going well but then the tracking went out and the car was handling badly. Then the rear tyres were looking a tad used so we replaced then but this made the handling worse. We tried reducing the pressures but the car was still all over the place. After we finished I noticed that the tyres on the back were a different size! Totally my fault as I assumed all the tyres I bought with the car were the same size but I was wrong – at least we know why the handling was bad now! I'm absolutely delighted to finish 9th on a British championship event and third in the largest class, I can't believe it. Massive thanks to our 4wdni friends, without them we'd have been going home on Saturday morning."
The BXCC title showdown will take place at Walters Arena in South Wales on October 9/10. With the best three scores to count Adrian Marfell is currently in prime position for the title with two wins and a third place. However, with one first and one second so far, Richard Kershaw will take the championship if he wins at Walters.
Please see crosscountryuk.org for championship information and results. In addition to championship sponsor Britpart the BXCC is supported by Voxcloud, Staffordshire Signs, Whitecliff 4×4, ORTyresUK, Birchall Foodservice, NickyGrist.com, PD Extinguishers, Devon Town and Country Roofing and Gwalia Healthcare.
Please follow and like us: