The Britpart British Cross Country Championship (BXCC) will be decided next weekend at the final round at Walters in South Wales.
After winning the previous rounds at Sweet Lamb and Kielder it is Adrian Marfell and Paul Bartleman who head the leaderboard on 171 points. Richard and Mason Kershaw are in second with 166 points with Paul Rowlands and Neil Lloyd in third on 151. A best ever BXCC result of third place in Kielder sees Dave and Antony Hooper in fourth with 144 points whilst current champion Justin Birchall is fifth on 143.
The title is decided on the best three scores from four rounds so, with two wins and a third, Marfell and Bartleman are in a good position to win the championship. However, the Kershaws have one win and a second place so a win at Walters would see them take the title.
In the BXC Trophy championship, which is running over three of the four BXCC rounds, Tom and Alice Jones lead the way on 172 points ahead of Harry Nicoll and Emily Sibley on 157.
The Insanity Racing team of Jon Damrel and Nic Blundell are looking to finish their season on a high after a consistent performances all season, including a successful weekend last time out in Kielder.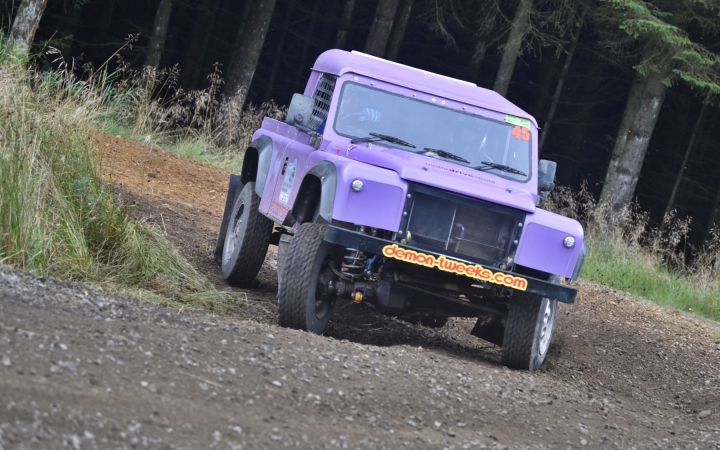 "Kielder was not the kind of venue I feel comfortable at with a lot of very long fast straights," said Damrel. "I struggled to keep the car in a straight line as it was very twitchy riding the camber. Seeing so many cars parked up or off the road didn't help my confidence either! However, it was a fun weekend, we got to the finish and we get to race at Walters for the BXCC finale."
Several BXCC crews won't be racing at Walters for various reasons. Amongst these are Team OFG's Phill Bayliss and Lance Murfin who rolled their car "Blaze" at Kielder.
"The roll damaged my ribs and Blaze is quite battered still so we're missing Walters", commented Baylisss. "I am really excited about watching the top guys fight it out for the championship win though, good luck to everyone!"
Tim Philpott won't be at Walters either after his engine expired on the first run at Kielder. However, daughter Jasmine will be racing in her Warrior with Peter Widdop co-driving.
Widdop commented: "There are no real issues after Kielder, the car is more or less ready for Walters. I'm confident we can improve our overall position relative to Kielder."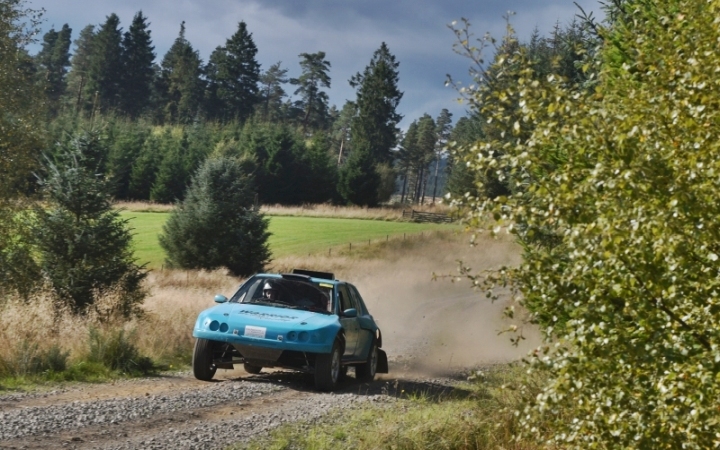 Andy Degiulio and Paul Foley missed Kielder after having to fit a new engine following Sweet Lamb but they will return at Walters.
"The new engine has been fitted and mapped. I'm looking forward to seeing how it performs. It's a smaller 5.5 litre short-stroke motor, I'm hoping the drop in torque will make the transmission more reliable – I've been averaging two diffs per event."
Aston Cox is hoping to be at Walters but his car is currently without an engine.
"We are working flat out trying to get the engine rebuilt and put back together for Walters but it's going to be tight to get it finished. Dad's car definitely won't be there, the engine has gone after Kielder."
Martin James, from West Wales, won't have quite as long a journey to get to Walters as he had for Kielder and he's looking for a decent result to finish his season in style.
"It's a short turnaround after Kielder but luckily there is little work needed on the car other than the usual spanner check," said James. "My partner Chas will be back in the car co-driving for Walters. It looks like it will be another fast event. I think I've raced more at Walters than any other site so hopefully we can round off our season with a good finish."
Mike Wilson and Ian Letman are hoping for better luck after retiring their Polaris in Kielder, Wilson's woes compounded when the exhaust fell off his service truck.
"The car is having a new clutch fitted and the truck is getting a new exhaust," said Wilson. "Ian does a lot of marshalling at Walters so hopefully his local knowledge will be useful to us next weekend."
BXC Trophy crew Reece and Shaun Mathieson have been busy since Sweet Lamb where a driveshaft went through the gearbox.
"We're all ready to go for Walters. An engine mount sheared at Sweet Lamb which resulted in the shaft puncturing the gearbox so we've had the engine out and put a new gearbox in. Glazier Leaper Welding designed and manufactured a gearbox guard for us to avoid the issue occurring again. We're looking forward to getting back out and hopefully getting a good result to finish off our first season of racing."
A tough course has been planned for Walters which should provide a fitting finale to the BXCC and, as usual, there will be two days of competition with the first car away late on Saturday morning.
In addition to championship sponsor Britpart the BXCC is supported by Voxcloud, Staffordshire Signs, Whitecliff 4×4, ORTyresUK, Birchall Foodservice, NickyGrist.com, PD Extinguishers, Devon Town and Country Roofing and Gwalia Healthcare.
For more information on the Britpart BXCC please visit crosscountryuk.org.
Please follow and like us: