Andy Degiulio and Paul Foley put their bad luck this season behind them with victory at round five of the Britpart British Cross Country Championship which was held at Whaddon in Buckinghamshire.
A quick start by Paul Rowlands and Neil Lloyd gave them a lead of 14 seconds after the opening two runs in their Polaris with Degiulio in second place. Fastest or joint fastest times on the next four runs saw Degiulio close the gap to one second after run 6. Rowlands' victory hopes were dashed on run 7 though with a broken drive belt resulting in a maximum which dropped him down the leaderboard and left Degiulio leading the event overnight with championship leaders Justin Birchall and Jonny Koonja in second and Ian Gregg and Adam Evans in third.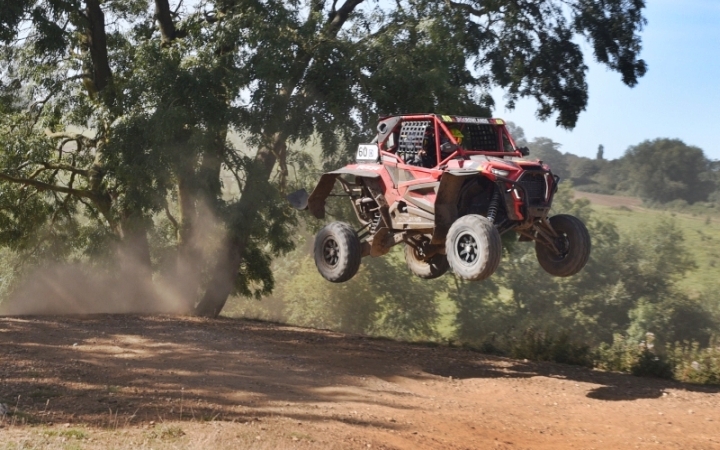 Whaddon was a new venue for the BXCC and it proved to be tough for some crews on day one. Martin and Aston Cox damaged the steering on their GSR 206, Richard Green broke a track rod end on his Tomcat 100 and Michael Wilson's Freelander was forced into retirement when the front diff housing exploded and holed the engine sump.
Degiulio maintained his lead throughout the second day, taking the win by 1m 24s.
"It's been a long time coming," said Degiulio. "It's a good feeling to be back on the podium after the problems we've had this season with crashing and mechanical issues. It was a case of keeping my head down and keeping at it. I enjoyed the event, I enjoy the driving and it's a privilege to do what we do."
There was a tense battle for second place. Mark Jacques and Adam Nicholson set the fastest time of the event on the last run of day one in their Lofthouse LS3 and they set the pace on day two also, with fastest time on every run. Jacques completed his runs with Birchall's car still in service having the front diff changed. Birchall set out on his final run needing to complete the course in less than 6m 09s to get second place but he wasn't able to achieve it and had to settle for third behind Jacques.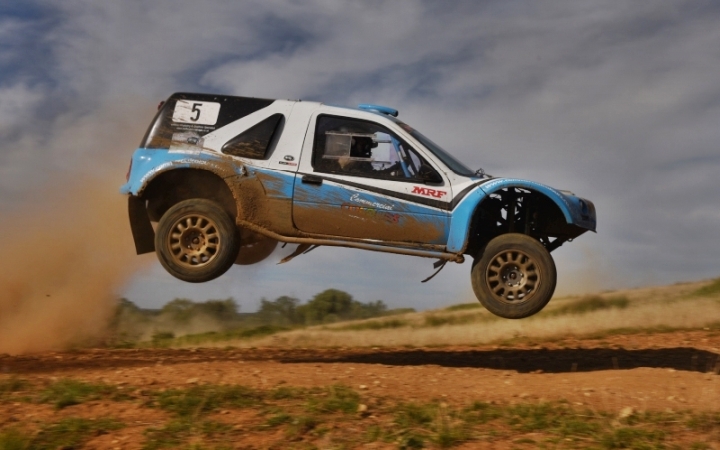 Jacques commented: "It's been a tough weekend, we arrived late on Friday so didn't get a chance to walk the course and then the first couple of runs were difficult as we had a misfire. After that though we started to enjoy it and the car was faultless. It was quite different terrain to what we usually race on but we gave it our best. It was a really good event, well organised with a great atmosphere."
Birchall's third place keeps his BXCC title hopes alive. He commented: "It was an extremely hard event, the nature of the course meant trying to do the same speed as usual was very difficult. It was tough on both car and crew, I've got blisters on my hands from hanging on to the steering wheel. We had a knocking noise on the car on day two so we changed the front diff but then we had no fourth gear on the final two runs. It's been a good weekend though."
Gregg finished fourth in his Polaris with Paul Rowlands fighting back from his day one disappointment to take fifth. Jason Rowlands also had a drive belt failure which meant he could finish no higher than sixth in his Can-Am X3.
Martin and Aston Cox had further steering issues on day two but were still able to finish seventh. Oisin Riley was eighth in his Polaris and Phill Bayliss ended his run of third places in ninth after a challenging event which included damaging his wrist on day one after hitting a bump at speed, resulting in the rest of the event having to be driven one-handed. Liam Griffin rounded off the top ten in his Bowler Bulldog on what was his first BXCC event.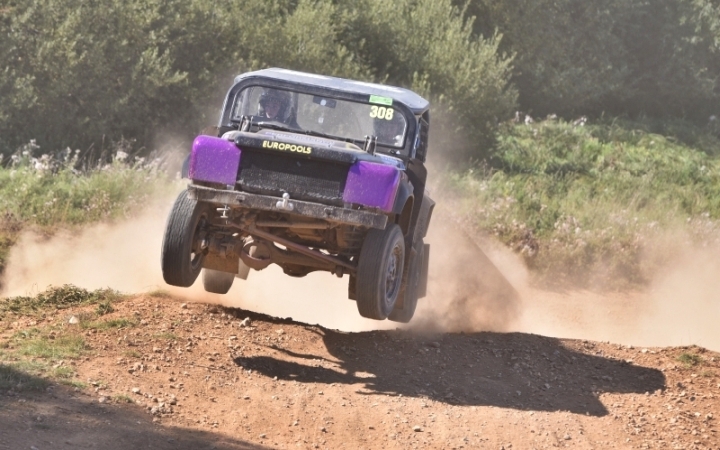 Chloe Jones completed her class 7 championship win and finished 11th overall with Richard Green completing the finishers in 12th after several problems with his Tomcat.
The championship will finish in October at Walters in South Wales. For more information please visit crosscountryuk.org. For pictures from the event please visit www.facebook.com/songasportoffroad. Video coverage from the event will be available on www.youtube.com/specialstage.
Thanks to all the sponsors of the BXCC: Britpart, Voxcloud, Staffordshire Signs, Par Homes, OFG Land Rover Specialists, Birchall Foodservice, Nicky Grist Motorsports and Bowler.
Top 10 results:
01. Andy Degiulio/Paul Foley (Milner R5) 01:49:08
02. Mark Jacques/Adam Nicholson (Lofthouse LS3) 01:50:32
03. Justin Birchall/Jonny Koonja (Lofthouse Freelander) 01:50:51
04. Ian Gregg/Adam Evans (Polaris RZR) 01:51:05
05. Paul Rowlands/Neil Lloyd (Polaris RZR) 01:55:11
06. Jason Rowlands/Matthew Hall (Can-Am X3) 02:00:10
07. Martin & Aston Cox/Josh Thomas (GSR 206) 02:03:31
08. Oisin Riley/Philip Richards (Polaris RZR XP1K Turbo) 02:04:20
09. Phill Bayliss/Lance Murfin (Land Rover Special) 02:05:56
10. Liam Griffin/Robert Daniels (Bowler Bulldog) 02:10:40



Please follow and like us: