Rick Mann and Rebecca M Clarkson won the latest Britpart British Cross Country Championship (BXCC) round. which was held at Sweet Lamb in Wales, with Mark Jacques and Adam Nicholson finishing 2nd overall and 1st BXCC crew.
Justin Birchall was joint leader of the championship going into the event and he made a rapid start at Sweet Lamb, setting fastest time on the first three runs in his Lofthouse Freelander to take a seven second lead over Mann.
Birchall and Mann shared fastest times for the remainder of the day one runs but it was Mann who held the lead overnight, six seconds ahead of Birchall with Phill Bayliss in 3rd in his Land Rover Special.
The testing 6.2 mile course proved to be tough for some crews on day one. Andy Powell rolled his car at a hairpin, Andy Deguilio crashed out of the event on the opening run and Michael Wilson put his Freelander on its side. Greg Macleod, doing his first British event for several years, retired his Bowler with a broken engine.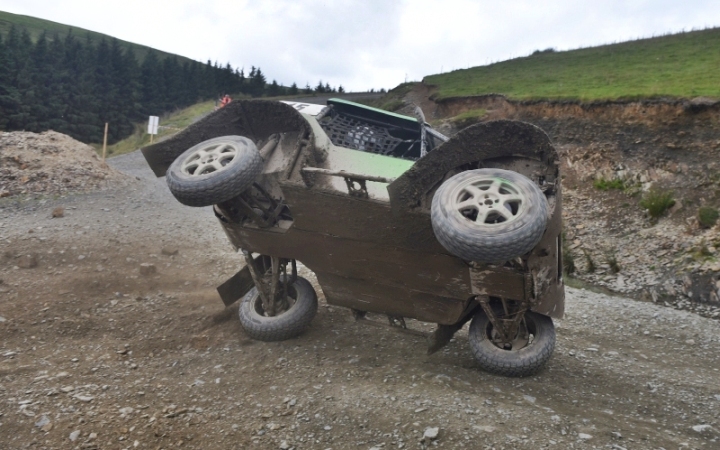 Birchall's hopes of a second BXCC win this season were dashed when he rolled his car on the opening run of day two, leaving Mann to take a convincing win despite a wheel bearing problem on the final few runs.
"It's my first event for nine months," said Mann "It's been a slow rebuild since an accident in France last year. The racing was great, we had a good ding-dong with Justin on the first day. The course seemed to change overnight, it felt rougher and more slippery. The wheel bearing issue was worrying as there was a risk the wheel would come off but we got to the finish. It's been a great weekend of racing, the organisation was top-notch and the course had a bit of everything, I love racing at Sweet Lamb."
With Mann not registered for the championship it was Mark Jacques who took maximum points in the title race.
"We've had a great weekend, the car has been impeccable," commented Jacques. "The course was fantastic and we had fun swapping times with Phill Bayliss. I'm looking forward to the next round at Bovington now, it should be good."
Bayliss followed up his round two 3rd place with another 3rd overall and 2nd BXCC crew. He commented: "I thought our Forrest Estate result was a fluke but we've finished well again. We had a fairly hassle-free weekend, the only problem was breaking a shaft on the last run which meant we did most of the course in two-wheel drive. The stage had a good mix of terrain and was spot on."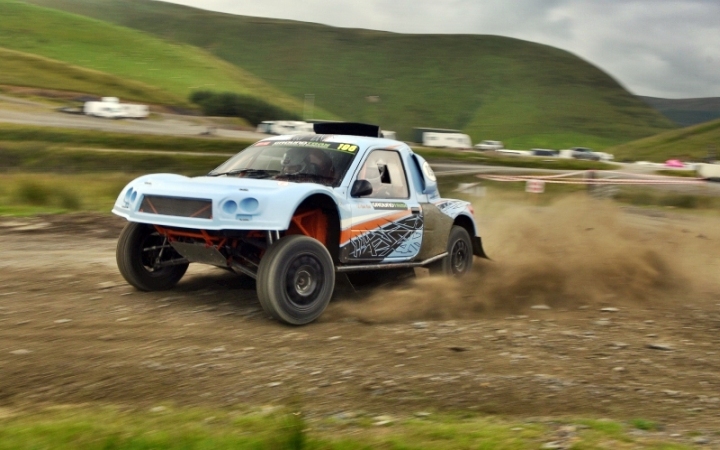 Ian Gregg and Adam Evans finished 4th overall and 1st in class in their Polaris RZR. Warrington duo Mike Moran and Tony Coid finished their first BXCC round this season, taking their Lofthouse Evo to 5th place and 1st in class 8. Fellow Lofthouse crew Richard Wynne-Williams and Matthew Lower were 6th ahead of Jason Rowlands and Liam Dudley in their Par Homes Can-Am X3.
Toby Jefferson, who celebrated his 50th birthday at the event, finished 8th in his GSR 206 with BXCC newcomer Tom Jones driving his Can-Am X3 to 9th. Britpart's Paul Myers gave his Land Rover Special's new engine its competitive debut, finishing 10th overall.
Phil Ibbotson and Karina James finished 12th despite an almost event-ending moment on day one when they attempted a cut on one corner which nearly saw their 6R4 Evo head down the hillside.
Oisin Riley had his sponsors in the navigator's seat of his Polaris and they finished 15th overall and 2nd in class.
Rob Bool was classified 17th after being 7th overnight, his AT 4×4 Challenger suffering from a fire caused by a broken exhaust on day two. Fortunately the fire was extinguished with the assistance of Ryan Cooke who was next on the road. Cooke himself finished 13th, his hopes of a good result ended when the fan belt on his Milner LRM-1 came off, resulting in a maximum for one of the runs.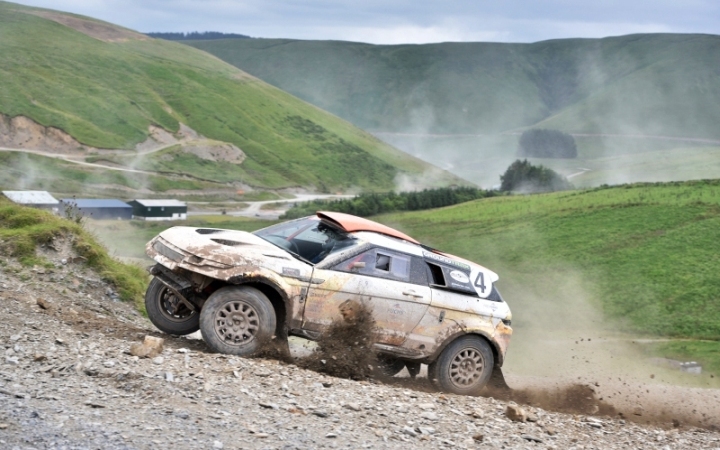 The championship will resume in August at Bovington in Dorset. For more information please visit crosscountryuk.org. For pictures from the event please visit www.facebook.com/songasportoffroad. Video coverage from the event will be available on www.youtube.com/specialstage.
Thanks to all the sponsors of the BXCC: Britpart, Voxcloud, Staffordshire Signs, Par Homes, OFG Land Rover Specialists, Birchall Foodservice, Nicky Grist Motorsports and Bowler.
Top 10 results:
01. Rick Mann/Rebecca Clarkson (RM Dirtstar) 01:36:48
02. Mark Jacques/Adam Nicholson (Lofthouse LS3) 01:40:09
03. Phil Bayliss/Lance Murfin (Land Rover Special) 01:41:02
04. Ian Gregg/Adam Evans (Polaris RZR) 01:42:20
05. Mike Moran/Tony Coid (Lofthouse Evo) 01:42:54
06. Richard Wynne-Williams/Matthew Lowe (Lofthouse BMW) 01:44:33
07. Jason Rowlands/Liam Dudley (Can-Am X3) 01:44:39
08. Toby Jefferson/Megan Jefferson (GSR 206) 01:49:30
09. Tom Jones/Alice Fairbanks (Can-Am X3) 01:49:56
10. Paul Myers/Alastair Myers (Land Rover Special) 01:52:24
Please follow and like us: